The Arnold Strongman Classic is this weekend!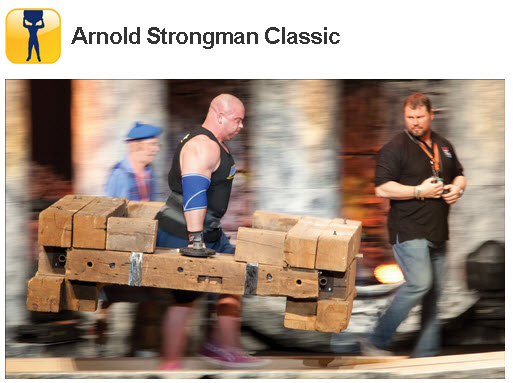 I know I haven't written as much about strength training, Strongman and bending on this blog yet (that will change in the coming months) but I did want to write a post about this weekends Arnold Strongman Classic in Columbus, OH that starts tomorrow. It is widely considered one of the top 2 Strongman contests in the world (the other of course being "The World's Strongest Man" seen on ESPN and ESPN2). Some of the top professional Strongmen in the world are invited to attend this contest and it is a very exciting event. "The Arnold" as it is called is known for having events that are extra heavy! All professional Strongman contests use weights for their events that are unliftable for all but the very strongest, but "The Arnold" has become widely recognized for taking the weights used to the next level! It is also well known for catapulting its winners to new levels of fame since it is such a huge event. The first winner was now WWE Wrestler Mark Henry. Worlds Strongest Man winners Zydrunas Savickas and Brian Shaw have also won and many other greats have competed.
The Arnold is also recognized for giving away serious and unusual prizes. In its early days, it gave away an H1 Hummer to the winner!
What is amazing about the Arnold Sports Festival weekend is how many varied sports competitions are represented! From Jiu Jitsu to Arm Wrestling to Fitness Competitions to Amateur and Professional Bodybuilding to Fencing to Powerlifing to Table Tennis (!) the Arnold is literally overflowing with contests to watch. The Expo area is also well known for being packed to the brim with both exhibitors and people (hard to move around it is so packed is what I hear…I haven't gone to the Festival yet but plan to in years ahead).
Arnold Strongman Classic Basic Info
One advantage that the Arnold has over The Worlds Strongest Man is that it is made to be spectator friendly (the Worlds Strongest Man is made to be a TV show and is shot over a weeks time) and has two events a day for two days.
The official site has more info Arnold Strongman Classic
Each event requires feats of strength close to unimaginable for anyone that has ever picked up a weight!
Lifting a 452lb log from the floor to overhead. Lifting a 540lb stone over a 49″ bar for as many reps as possible. Deadlifting a bar anchored with massive truck tires for maximum weight (the winnning weight is going to be well over 1000lbs!) and lifting a 264lb Circus Dumbbell from the floor to overhead for as many reps as possible! Just crazy awesome stuff!
In my contest "The Strongest Man Alive", we had a max overhead dumbbell press and the winning weight was 210lbs. And my Mavrock lifting stones topped out at 365lbs. How the sport of Strongman has changed in 15 years.. it is truly amazing.
What I thought you might find interesting are some vidoes of some of the competitors in their training up to the Arnold. I wasn't able to find any of the training on most of the competitors but those shown below all have a legitimate shot at winning.
Brian Shaw – 2011 Arnold Strongman Classic Winner and 2011 Worlds Strongest Man Winner


Derek Poundstone – 2009 and 2010 Arnold Strongman Winner, 2008 Fortissimus Winner and 2008 Worlds Strongest Man Runner-Up


Hafthor Bjornsson – Iceland's Strongest Man and 3rd at 2012 Worlds Strongest Man. Coached by my friend Magnus ver Magnusson.



It will be an amazing display of strength and I wish I could be there, but the best site I know for updates throughout the event (generally with videos) is Marunde Muscle's Forum. I know I will be checking it Friday and Saturday!
Best of luck in your training,
Chris