The Arran Malt Sauternes Cask Finish Single Malt Scotch Whisky Review
Why I went wanting to taste this particular Scotch is simple… after being overwhelmed with awe at the majesty of the Glenmorangie Nectar D'Or, I wanted to try another Sauternes Cask Finish Scotch! It is truly that simple. The wonderful sweet complexities that that cask finishing gave to the Nectar D'Or compelled me to see what such a French cask might do for another distillerie's product. I looked and (at least in my city) could only find one other.. The Arran Malt that I am here reviewing. I was excited not only to try another Sauternes finished dram, but also to taste my first from the Isle of Arran! With such high expectations coming from my initial foray into finishing a Scotch with a cask from one of the most highly regarded white wine regions in the world, would I be disappointed in my second adventure….
I would not!
This is my first whisky from The Arran Malt and thereby my first whisky from the Isle of Arran (this being the case as it is the only one on the island!). This Sauternes Cask Finish bottling retails for between $65 – $75.
Once in a time there were more than 50 whisky distilleries on Arran, not many of them legal and most of them carefully hidden from the eyes of the taxmen. The malt had a good reputation and rivalled those from the 'Glen of Livet'. The former advantage of isolation eventually grow to a problem with the added cost of transport and all of the distilleries soon perished but later spran up The Arran Malt.
The map below shows the isle in relation to the rest of Scotland. Just 20 miles long and 10 miles wide, the beautiful Island of Arran is described by many as 'Scotland in Miniature'. With what is described as stunning landscapes, ancient castles and fascinating landmarks I would love to visit this isle someday (and definitely have a dram or two). The isle is denoted with the light red dot.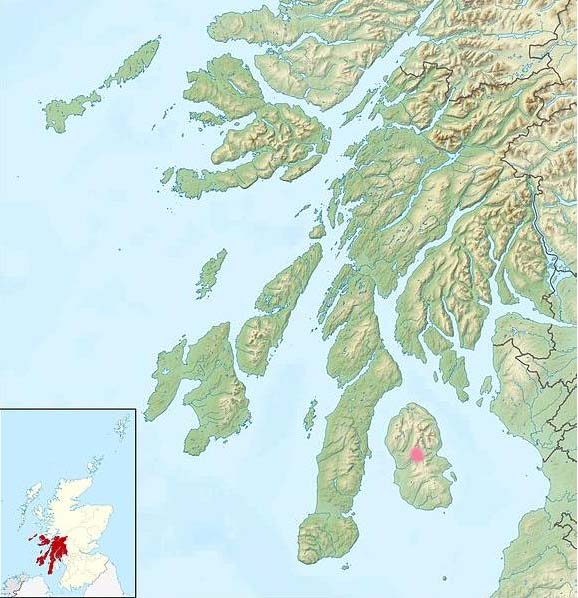 Along the south west coast of Arran, overlooking the Kilbrannan Sound, you'll find a series of ancient sandstone caves. And one of these caves, King's Cave, is home to a world-famous legend – the story of Robert the Bruce and the spider.
It is said that in the early days of Bruce's reign, he was defeated by the English and driven into exile. Whilst on the run, he sought refuge in this dark cave – where he sat and watched a spider trying to make a web.
The spider would fall, time and time again; but it got there in the end. Inspired by the perseverance of the tiny creature, Bruce took note, and went on to defeat the English at the Battle of Bannockburn!
The Distillery was opened in 1995, at Lochranza, in the north of the Island. During the official opening ceremony, two golden eagles, who live on the mountain behind the Distillery provided a fly past as a 'thank you' for halting building work for several weeks to allow them to hatch their chicks. On a warm summer's day they can still be found, floating high on the thermal currents, before dropping like a stone, hunting their quarry.
Lochranza in Arran really is perfect location for producing the perfect Malt. Here's why:
The area is home to the purest water in all of Scotland – water that's been cleansed by granite and softened by peat as it slowly meanders from the mountaintops into nearby Loch na Davie
Arran enjoys a warm microclimate – the atmosphere of sea breezes and clear mountain air, together with the warm flow of the Gulf Stream is ideal for the speedy maturation of single malt.
They only use the traditional methods of distilling, with wooden washbacks and copper stills, designed to their exact specification. They don't use peat in the production process (as do the Islay distilleries) or caramel for artificial colouring – unlike many other distilleries. And all their Single Malts are non-chillfiltered, which means they're natural in pigment.. as in my opinion they all should be!
At Arran, they use two types of barley: Optic and Oxbridge. They receive their barley already malted and grind it through their malt mill where it is coarsely ground down into grist ready for the next stage of the process.
Fermentation takes place in large wooden vessels known as washbacks. Their washbacks are made of Oregon Pine.
The Arran Single Malt is double-distilled in the traditional Scottish style in the wash still and the spirit still. The liquid is boiled in the wash still by means of internal steam fins, is driven off as a vapour and passes through the tall, swan neck of the still. This vapour then passes through a condenser (a series of thin copper pipes surrounded by cold water) where it is condensed back to a liquid form, known as Low Wines. The Low Wines are collected in the receiver from the first distillation at a strength of around 23% abv.
The Low Wines are then filled into the spirit still for the second distillation. Again, the liquid in the spirit still is boiled by internal steam fins and after 30 minutes foreshots begin to appear in the spirit safe. Foreshots appear at 74% abv but contain too many volatile compounds to be collected as spirit so these are diverted into the Low Wines / Feints Receiver. After a further 20 minutes spirit known as the heart or middle-cut of the run can be collected at an average strength of 68% abv. They reduce this with local water to 63.5% abv and then it is ready to be filled into oak casks for maturation.
By law spirit must be matured in an oak cask in Scotland for a minimum period of three years before it can legally be called Scotch whisky. At the Isle of Arran Distillery they use ex-sherry and ex-bourbon casks to achieve a more balanced flavour profile.
The spirit filled into the casks is completely colourless and will derive colour and flavour from the oak as it matures.
As a porous wood, the oak casks will 'breathe' as the whisky matures and around 2% of the contents will be lost each year through evaporation in what is known as the 'Angel's Share'.
Watch a beautiful video about the Isle and the Distillery

On to the whiskies.. The Arran Malt produces 5 base single malts from 10 – 16 years and 5 extra cask (ranging from this Sauternes finish to Amarone Wine, Port Wine and Single Sherry) finished malts. Based off of my impression of this stunning version, I will definitely be trying many of the others! Over and again, the quality of the water at Arran is emphasized. This high quality is of course something that cannot be duplicated elsewhere.
And then onto this specific bottling… After initially maturing in traditional oak casks for approximately 8 years, The Arran Single Malt in this bottling was finished in a selection of Sauternes wine casks sourced from an artisan producer of this iconic Bordeaux sweet white wine. Their Master Distiller, James MacTaggart, monitored this period of secondary maturation to ensure the perfect balance is struck between the Sauternes casks and the intrinsic sweet-fruity character of The Arran Malt. This whisky is bottled at 50% alcohol by volume.
The first thing one notices after the pour is that this is one unusual and gorgeous whisky! It looks about as close in color to a white wine as a Scotch could I think. The lack of caramel coloring and the brilliance with which the Sauternes cask finishing brightens the color yield a truly unique display. WIthout question one would hesitate to place on a bet on the liquid in the glass being Scotch without knowing better… but in this case that is a fascinating and wonderful thing!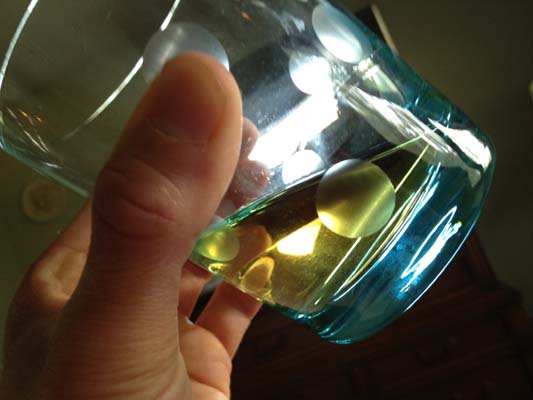 Nose: Almost no indication of the 100 proof heat. Honeydew melon, over ripe bananas, horsehair artists brush, unleavened bread, black licorice, highly rich mineral water and a faint hint of dates. It does give a sense of a special water even through the nose.. I can't deny that. An extraordinarily complex nose that invites you (but doesn't beg) to linger so as to take it all in.
Taste: Relatively light yet still creamy mouthfeel. Suprising subtle mouthfeel. Candied bananas, light honey, cotton candy and liverwurst. Mostly extra sweet bananas and some saltiness. Compared to the nose and the finish, the intial taste is slightly subdued. It has its place and expresses what it will, but it is a light chapter in the tome. The finish is where it really comes back alive! Pressing it's way back into your senses with not a slap but more of a gentle tug of your cheek. It finishes with a full box of marzipan and roasted cashew. The minerals in the water come back strong and in a good way. Even in the end, the heat is subued and never very apparent (which is another testament to a fine product). The lasting impression on the tongue is a bit of tobacco leaf and thick spearmint.
Balance: This dram takes its own way on balance.. it definitely does not have a typical take on being balanced as the middle is noticably less (though still very pleasant) than the front and the back.. but I never got a sense of it doing anything than making its own verse.. projecting its own play. It announces itself with sublety and fervent complexity, moves onto the tongue with less punctuation and varied flavors but saunters away again with a symphony of expression.. and it never really leaves.
Overall this is a phenomenal Scotch! That really says it. Beautiful, very expressive yet subdued (how hard is that!) and always taking you gently by the hand (never with a left hook to the jaw) to a sumptuous place filled with candy and mirth. This Scotch sticks with you and you want it to! I can't wait to try other Arran Malt varieties!
In thinking about how to score this one, I had to compare it to the other Sauternes finished Scotch I have reviewed The Nectar D'or and this one falls back from it just a bit. It is slightly less complex, slightly less sugary amazement yet almost as beautiful in its own way. It just fell behind a bit in the middle… but just a bit.
French white wine casks sure can help to make amazing Scotch!
Score: 9.5 Black Cats (out of 10)
We are all warriors and we need to celebrate,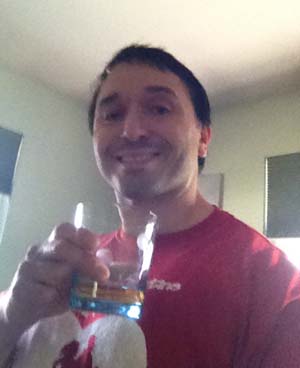 Chris