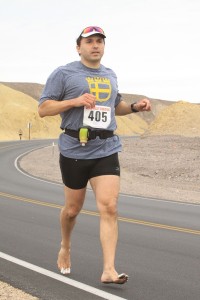 This Blog is maintained and updated by Chris Mavromatis.
I started this blog because I have a lot to say about training (and nutrition/supplementation) for running, ultrarunning, weight training, bodybuilding, Strongman, steel bending and grip strength. I also look forward to having discussions through comments on my blogs so that I too can learn from the vast experience of those passionate about maintaining the truth about effective training and cutting through the nonsense that proliferates so much of the media and the fitness clubs. I look forward to having interviews with important people in their respective fields, book and equipment reviews and discussions about topics that I think matter. You will be following my goals and progress in many of the fields outlined above and through following I hope to enlighten and teach (as well as be entertaining). I am a decent (but certainly not great) athlete but a pretty good and very knowledgeable coach that has learned at times from some of the worlds best in their respective sports and I look forward to imparting much of my wisdom to you through this blog.
My background in these matters is somewhat unique.
I was instrumental in 1997 in bringing the sport of Strongman to the United States through my production company Mavrocat Productions, Inc. Through advertising and spreading the message (before there was Twitter!) I was able to get two former Worlds Strongest Men Magnus ver Magnusson and Bill Kazmaier to judge my main contest "The Strongest Man Alive Contest" in St. Louis, MO and brought another former Worlds Strongest Man Jouko Ahola to compete (and eventually win the Heavyweight division of the contest). Future Worlds Strongest Man Phil Pfister placed 2nd at my contest in his first international competition. Some of the top strength showmen in the world showed up to give demonstrations including hand strength legend John Brookfield. The show was seen in 105 countries through Fox Sports International.
I was lucky enough to work with other promoters in their home countries after my contest and learn from and train with the best.
Shown below is a picture of me (with much longer hair!) with one of my Mavrocks (the one shown being 600lbs). They were the first hand sculpted granite lifting stones in the U.S.
I was never a world class (or even national class) strength athlete but have learned so much from so many phenomenal legends that I feel compelled to share what I have learned.
Some of my personal bests in the gym (many years ago) were a 765lb squat, 315lb overhead press and 175lb curl. I am not lifting those weights now, but I was also 60lbs heavier then.
I was actually better at bending and tearing than strict weight lifting and really enjoy it. Some of my bests are tearing a deck and a half of cards in half, bending a blue and white Ironmind nail together, doing multiple reps with the Captains of Crush No 2 gripper and rolling many frying pans into metal burritos.
About early 2008, I got into running (initially to lose weight as many do) but became quite passionate about it and it is a part of my soul. I have raced from the distances 100m to a 12 Hour Ultramarathon (totaling 54.2 miles) and love the distances from 5K to 50 Miler. I am a pretty average runner but a pretty good coach in that I have taken my varied experience and applied it to writing schedules for many runners with success. Two years ago I transitioned into barefoot running and today perform about 70% of my runs barefoot. Much of my writing here will be about my running training and things I have learned about training, getting faster and injury prevention. I was hurt a lot before I went barefoot so I have a lot of experience in what not to do!
I am also a bit passionate about fine liquor and will be having periodic Scotch, Bourbon and other liquor reviews. I hope you find these at least entertaining if not informative as well.
Welcome to my blog and please feel to contribute ideas and analysis through comments.
If you have questions or requests please send them through a comment and I will email you back.
Thank you and best of luck in your training!!
Chris