The Badwater Ultramarathon is generally considered the worlds toughest footrace (one race that competes for that title regularly is the Barkley Ultramarathon ).
Badwater is a race that tests the best of the best ultrarunners in the world to travel 135 miles through Death Valley with an end that requires climbing the mountain Mt. Whitney. It takes place in July where temperatures can reach 130 degrees and winds can be 40 mph. There are no aid stations (runners have support vehicles that drive alongside of them) and there is no mercy. To complete such an endeavor can be a life altering event. Almost all say they "find themself" out in the desert during this race.
Such a race is an amazing and somewhat ridiculous thing. It has intrigued me since I learned about it a few good years ago. I most likely not (but who knows really) ever do it, but I will be running on 13.1 miles (out and back) of the exact same course. I feel a bit of a union of spirit with those that have done Badwater.
I went to Badwater today and it is much more amazing of a place than I imagined. Its beauty and power is incredible. I will be starting my race 17 miles further up (in Furnace Creek) but what an amazing place to start an epic race! Below are pictures from that trip. It is a basin of salt. I thought it was hilarious and awesome that they posted a sign up on the rock face that showed where sea level is! Badwater is the lowest place in the entire Western Hemisphere. If you are reading this in the America's, for a few hours today I was a lower man than you 🙂
Also pictured are images from the Golden Canyon (just a few miles down the road from Badwater). Words don't do it justice but the photos start to.
Pictured last is the sign for Furnace Creek. At 190 feet below sea level, I have read past runners comment that they feel as if they have an oxygen tank on their back when they run. The opposite effect of high altitude. Let's hope it is true, but I will say that my run yesterday did seem to feel extra easy and the oxygen can't hurt.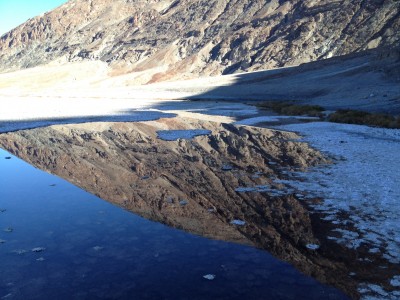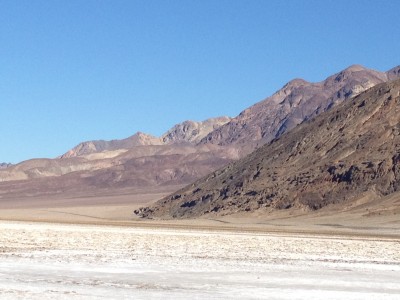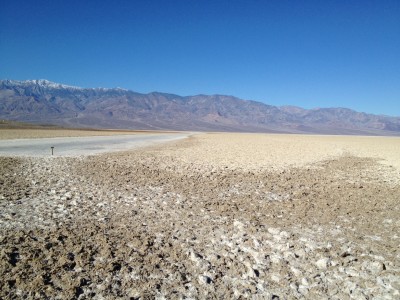 The Golden Canyon
Furnace Creek
Cheers,
Chris