Part 1 of my Glenmorangie Scotch Whiskey Reviews from a tasting on February 13th.
The Glenmorangie Distillery makes phenomenal Scotches. It is that straightforward. For many years they were the most widely consumed Scotch in Scotland (and the Scottish know a thing or two about Scotch), but just recently have been slightly out drank by the Isle of Jura Distillery.
Glenmorangie is a distillery in Tain, Ross-shire, Scotland. The distillery is owned by the Glenmorangie Company Ltd, whose main product is the range of Glenmorangie single malt whisky. Glenmorangie is based in the Highlands and boasts the tallest stills in Scotland. These stills have a significant impact on the flavor of the whiskey. They help to impart a lighter and more open tasting Scotch. The Glenmorangie Company also owns the Ardbeg Distillery on Islay and The Scotch Malt Whisky Society based in Leith, Edinburgh.
Legend tells that alcoholic beverages of one kind or another were produced in and around Tain since the Middle Ages. It is said that the production of alcohol started at Morangie Farm in 1738, when a brewery was built that shared the farm's water source, the Tarlogie Spring. A former distillery manager, William Matheson, acquired the farm in 1843 and converted the Morangie brewery to a distillery, equipped with two second hand gin stills. He later renamed the distillery Glenmorangie. The distillery was purchased by its main customer, the Leith firm Macdonald and Muir, in 1918. The Macdonald family would retain control of the company for almost 90 years.
Glenmorangie, like all distilleries and breweries in Britain suffered terribly between 1920 and 1950, with prohibition and then the Great Depression in the United States reducing whisky sales. The distillery was effectively mothballed between 1931 and 1936. The depression ended with World War II, but the war effort left fuel and barley in short supply and the distillery was again mothballed between 1941 and 1944. Exports of whisky were important during the war, but enemy action disrupted and destroyed deliveries to the United States and Canada.
Towards the end of the war and in the immediate post war period, the distillery increased production and was running at full capacity by 1948. The number of stills was increased from two to four during 1977. Water supply became a concern during the 1980s with development of the land around the Tarlogie Springs becoming more likely. This development could have reduced the quality and quantity of water available to the distillery, so the decision was made by Macdonald and Muir to purchase around 600 acres (2.4 km2) of land around and including the Tarlogie Springs to guarantee the quality and quantity of water necessary. The distillery once again engaged in expansion during 1990 when it added a further four stills, and two additional fermentation vessels (or washbacks) were added during 2002. Four new stills were added in 2009, bringing the total to twelve.
The Macdonald family retained ownership of 52% of the company through a complicated London stock exchange listing which saw the family hold the majority of the voting shares of the company. The family sold the company in 2004 for around £300 million to the French drinks company Moët Hennessy Louis Vuitton. Following the acquisition by Moët Hennessy Louis Vuitton, Tayburn design agency were appointed to redesign Glenmorangie as part of a brand overhaul. This included the introduction of a new, more curvacious bottle, and the renaming of some of its variants. Its Wood Finish whiskies were given new names such as The Quinta Ruban, Nectar d'Or and LaSanta, which were also advertised as non chill-filtered for the first time.
Commentators have observed that the redesign appears to re-position Glenmorangie as an international luxury brand. According to Professor Paul Freathy, the director of the Institute of Retail Studies at the University of Stirling, "The French-sounding names are an unusual innovation, because what makes whisky unique is the traditional tie to Scotland. It's a brave strategy."
According to the Tayburn design agency, "Following the acquisition of Glenmorangie, parent company LVMH made clear their strategy to move the brand into the world of luxury. We have been working on a number of projects to reflect this 'new world' positioning. Our work continues to challenge traditional perceptions of whisky branding, introducing Glenmorangie to a modern, luxury fraternity."
Glenmorangie was the best selling single malt in Scotland almost continuously since 1983 until Isle of Jura overtook that title, and produces around 10 million bottles per annum, of which 6 to 6.5 million are sold in the UK. Globally, Glenmorangie has a 6% share of the single malt market.
Glenmorangie's water source is the Tarlogie Springs, situated in the Tarlogie Hills above the distillery. Barley grain is supplied by Highland Grain Ltd, a co-operative of farmers in the area. The stills used, the tallest in Scotland at 26 ft 3 in (8.00 m) tall, with 16 feet 10.25 inches (5.1372 m) necks, are claimed by the company to produce an extremely light taste.
The distillation process is undertaken by a staff of 16, known as The Sixteen Men of Tain, who work year round, with the exceptions of Christmas and periods of maintenance.
Glenmorangie uses a number of different cask types, with all products being matured in white oak casks which are manufactured from trees growing in Glenmorangie's own forest in the Ozark Mountains of Missouri, United States.
These new casks are left to air for two years before being leased to distillers Jack Daniel's and Heaven Hill for them to mature bourbon in for four years. Glenmorangie then uses their barrels to mature their spirit. The Original range will mature entirely in ex-bourbon casks, while the Extra Matured range of bottlings are transferred into casks that were previously used to mature other products such as wine, port or sherry in a process called finishing. These form part of the regular range of products Glenmorangie produces. Glenmorangie also obtains small batches of other casks for finishing and release limited edition bottlings from these. Following acquisition by LMVH, Glenmorangie produced a rare limited edition aged in casks previously used to mature Château Margaux; these bottlings are now (2011) extremely hard to find and are priced accordingly.
The warehouses in which the casks are stored are also believed to affect the taste of the whisky. Glenmorangie have released a special edition bottling, titled Cellar 13 which is from the warehouse closest to the sea, as the whisky is believed to have a distinctive flavour.
Glenmorangie's products have tended to garner very high scores from international Spirit ratings competitions and from liquor reviewing bodies. Its 12-year Lasanta and 18-year single malt spirits, for example, have never received less than a silver medal at the San Francisco World Spirits Competitions. Over the last 5 years Glenmorangie has won more 'Gold Best in Class' awards than any other single malt Scotch whisky from the International Wine and Spirits Competition. In 2012, the IWSC awarded The Glenmorangie Company the title Distiller of the Year.
So… there is some history and background on the Distillery.. following is some details about the tasting and my first 3 reviews.
I was invited to a tasting at Lukas Liquors in Ellisville, MO (St. Louis County) on February 13th, 2013 where we would sample 6 of their line and be instructed (and seriously entertained!) by their "Head of Whiskey Creation" (what a great title!) Dr. Bill Lumsden. Yes has has a PHd in BioChemistry! He is an incredibly charming and nice bloke and puts on a great presentation and you couldn't learn from a better representative for these whiskeys. I feel very lucky to have been invited to this tasting.
Here is a great video that shows the Dr. explaining a tremendous amount about Scotch in general (even why whiskey is spelled both with and without an "e") and Glenmorangie specifically. It is a brilliant interview and worth your time (at a bit under 18 minutes) when you have it. You will learn a tremendous amount and he has a style that makes the learning enjoyable. You will even hear about the Glenmorangie "Pride" Whiskey… that goes for $3,800.

It has been 5 years since he has been in the United States. It was an opportunity that I could not pass up!
Before I get into the actual reviews, I want to detail a few things that he said specifically in our class. I knew that the best way to enjoy a Whiskey (and if you didn't know.. now you do) is to add just a bit of water to it. This releases the oils and aromatics in the drink. What I didn't know is that it is called "Releasing the Serpent". That is cool.  It isn't a crime to drown the whiskey in ice. It brings out a bit of the deeper flavors but it also does thin out the drink pretty quickly. In general I don't recommend ice, but if you do use it then just add one cube. He also said (and I didn't know) to not add water (or ice) to Scotches over 21 years, because the wood can come out too much. For the cigar smokers out there, his favorite is the Montecristo No. 4  (although he does not smoke often because it can dull one's palate and his palate is his livelihood).
If you are ever lucky enough to go to a tasting where Dr. Bill is presenting.. Go!
Onto the reviews… where I have to say ultimately rating them is a challenge because everyone is at least very good and a couple make me approach the question of a possible first 10 Black Cats.
Glenmorangie 10 Year Single Malt Scotch Whiskey Review
The 10 year is the base Scotch that Glenmorangie makes and is also actually the base for all of the other Scotches in their line. Dr. Bill says that while even though he has access to every Scotch that they produce, the 10 year is what he drinks the most of. It is without a doubt one of the best Scotches to introduce someone to Scotch. It is extremely good and affordable (at $40).
Nose: The color is very light. I detect fruit, honey, vanilla, peach and pear. The nose connotes a feeling of a gentle pat on the back.
Taste: The mouthfeel is really beautiful.. just lovely. The first impression is of lightness and very balanced heat throughout. A creamy texture that comes from the Missouri wood it ages in. Creme brulee and white chocolate. Citrus fruit on the side of the palate, mint at the top of the palate, then almond and coconut at the end.
Balance: Quite well balanced.
Overall: I believe it is simply the perfect introduction for someone to Scotch. There is nothing to dislike about it and yet it isn't too powerful to push you away. It is complex yet relaxed. You will not go wrong.
Score: 8.5 Black Cats (out of 10)








Glenmorangie LaSanta Single Malt Scotch Whiskey Review
Elegant but full bodied this whiskey has spent ten years maturing in American white oak ex-bourbon casks before being extra-matured for a further two years in Oloroso Sherry casks from Jerez in Spain. It retails for between $55 – $60.
Nose: Color is a little bit darker from the Sherry Cask and just slightly cloudy from being non chill filtered. The initial impression is of a certain intensity. What comes through is incense, molasses, demerara sugar, dates, a bit of stick of flint and balsamic vinegar
Taste: The mouthfeel is sticky. There is a tongue coating texture from the Sherry Cask. Brown sugar, lots of ginger, cinnamon, nutmeg and cloves. There is walnut in the aftertaste and it is pretty light on heat.
Balance: Well balanced.
Overall: Very complex and spicy. I very much like the overall flavor profile and it really would be a good one to drink with a spicy cigar or a dark chocolate. Very pleasing.
Score:  9 Black Cats (out of 10)










Glenmorangie Quinta Ruban Single Malt Scotch Whiskey Review
The darkest and most intense whisky in the extra-matured range, Glenmorangie Quinta Ruban has spent 10 years maturing in American white oak casks, before being transferred into specially selected ruby port pipes from the Quintas or wine estates of Portugal. It retails for between $45 – $52.
Nose: The color is pinkish and light from the young vibrant wines that were in the port casks this is extra matured in. Sandalwood, burning of incense, fennel, rubbing alcohol and a bit more heat than the previous two reviewed.
Taste: The mouthfeel is velvety soft… almost dewy. This one is deeper, bolder and more intense than the previous two. There are figs, plums, a lot of dark chocolate and mint. There is a mentholic top note for sure. It actually has a reasonably harsh finish.
Balance: Oddly not very well balanced but biased toward the port.. but in a good way.
Overall: I do really like this Scotch. Those few years in the port casks give it a gorgeous color and a unique and very minty chocolate flavor. It is a more in your face flavor and would go well with a bold cigar. It loses a bit because there isn't too much complexity, but I could drink it anytime and enjoy it. A unique flavor for a Scotch and I think you will really like it.
Score:  9 Black Cats (out of 10) A different route to 9 than the Lasanta.. a bit of a harsher route but still 9.









In Part 2, I will review the Nectar D'Or, the 18 Year and the Ealanta. A new level of Black Cat will be achieved!
We are all warriors and we need to celebrate,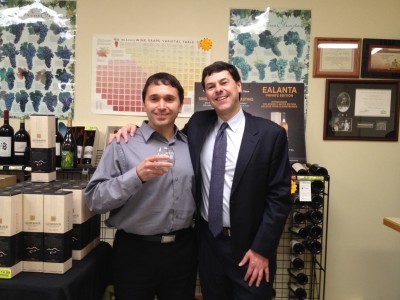 Cheers from Dr. Bill and I,
Chris